Benefits Enhance
Earn the spread by controlling accurately and Peak Load Cutting.

With intelligent power consumption management, it can reduce power consumption regarding the actual demands to take start-stop control of electrical appliances.

Through intelligent operation, big data analysis to realize unmanned on duty in the grid station. It can reduce the cost of maintenance and operation and improve system efficiency.

Procedures Management
To improve operation efficiency by managing the operating procedures.

To improve maintenance efficiency through the unmanned on duty in the grid station mode, intelligent failure positioning feature and ordering APP.

Security Insurance
Ensuring the electricity safety by real-time monitoring the loading of electrical wiring and client side.

To reduce the workload of upload data manually and the failure rates of error or missed data.

Strategies Auxiliary
Provide the support of strategies auxiliary for group decision-making through layers control, centralized management, and multidimensional comparative analysis of the data from each power station.

Show the customized KPI information by user roles, such as managers, maintenance staffs and inspectors.

Overview
Group-Level EMS
Improve maintenance efficiency through layers control, centralized management, intelligently analyze the core KPI of group's benefit and assets, build workflow management and automated operating APP dispatch system.
Factory-Level EMS
Regarding the item of Factory-Level energy storage, it can centralize and optimize the "Power-Grid-Load-Energy Storage" management for each factory, and intelligently analyze by big data to improve system efficiency and reduce power consumption of the park.
Local-Level EMS
Regarding the small showcase, the EMS system can be integrated with HMI of PCS equipment to support the software of master controllers to local monitoring, and intelligent management for energy storage power station.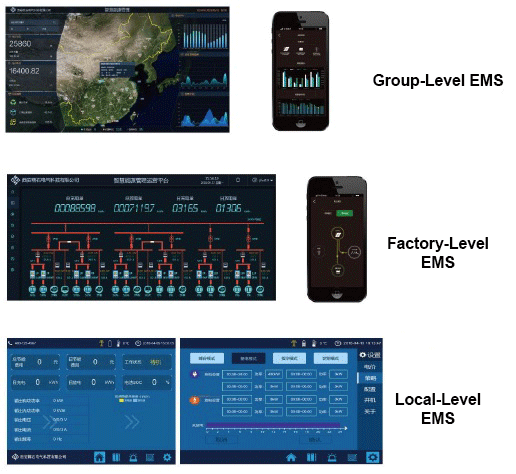 Data Security
The EMS provides a complete data security mechanism. It adopts the combination of symmetric and asymmetric encryption algorithm in the process of transmitting and storing information or data. Use symmetric encryption algorithms such as AES, DES, or IDEA to encrypt large-capacity data, and use asymmetric encryption algorithms such as RSA to transfer the keys used by the symmetric encryption algorithm to ensure that information or data is not leaked and unauthorized tampering. It also provides data security through the effective hardware protection + T4 level data center.